Back in July we ditched using Google Feedburner in favour of GovDelivery to manage our website email alerts and group newsletters.
Feedburner allowed us to manage subscriptions with automated email alerts based on RSS feeds. We could get basic stats on subscribers, views and clicks. But Feedburner didn't do newsletters and it only monitored RSS feeds. With GovDelivery we got a whole new box of tricks.
First let me tell you a bit about the company. They're based in the States. They specialise in Government. They're relatively new in the UK. And in my experience the staff have been very helpful in getting us going with the new system.
I received online training, live from the States. And with help from GovDelivery staff, I was able to get the system setup and customised pretty quick.
The switch-over went smoothly and we managed to turn off the old system and launch the new system in a few clicks.
User interface
The system is a bit clunky. The language is American. So what I call a "newsletter", they call an "advanced bulletin". The user interface is not the most modern. I didn't spot whole areas of navigation until after having used the system for a few weeks! But once you get used to it you can do some useful stuff.
Email alerts
GovDelivery does all that Feedburner did for us. We use the same RSS feeds for news, publications and consultations. These feeds trigger automatic email alerts when we add new items. But in addition to monitoring RSS feeds, GovDelivery has a "page watch" system that can monitor HTML pages for changes. We have used this feature to offer subscriptions to more specialised content where the emphasis has been on offering alerts when something has changed, as opposed to alerts for something new. And because you don't always want to tell the world when you have corrected a typo, system administrators get an email asking whether or not they want to send out an alert based on a change to the page. This makes the process more manual and labour-intensive but this depends on how often changes occur.
Newsletters
You can send out manual "bulletins" in the form of a quick, text-based email, or a full-on designed newsletter. There is a lot of flexibility in being able to target subscribers such as sending to people who subscribed within a specified date range or to a specific group of email addresses or a filter on user-defined fields which subscribers are invited to complete when signing-up. This ability to send out ad-hoc messages to subscribers was something that Feedburner lacked. So we are also using the system to manage newsletter mailing lists and user groups.
Optimised sign-up process
One of the clever ways of encouraging people to subscribe to a variety of topics is that they see a complete list of available topics when they sign-up. With feedburner, they only got to see the initial topic that they requested. Let me illustrate:
When you subscribe with Feedburner you get a confirmation page.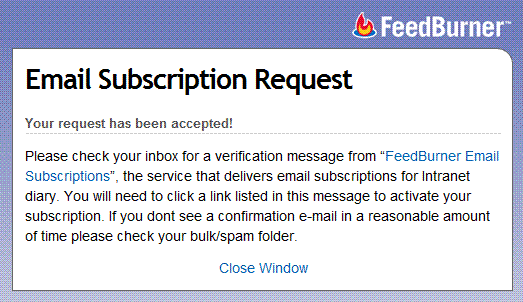 ;
When you subscribe with GovDelivery you get a choice of the complete range of topics on offer, available in nested and expandable lists. This technique has increased the number of alerts that people subscribe to when they sign-up.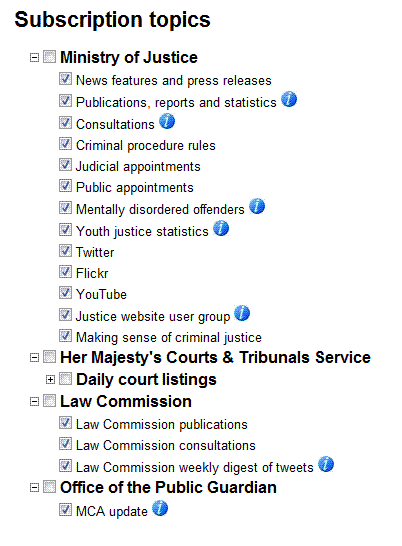 And to further increase subscriptions, GovDelivery cross-promotes other organisations.
The result is an overall increase in subscribers and the number of topics that they subscribe to when they sign-up. This was evident when one of our associated organisations cranked up nearly 50 subscribers before they officially announced their new alert service.
Reports
GovDelivery offers 8 standard reports detailing subscribers, alert topics and analytics on sent items and clicks, including clicks on links within the emails. The reports are very much raw dumps of data, but you can export the data to do more detailed analysis or create your own graphs elsewhere. And you can get detailed information throughout the system, for example if I click into one of my alert topics, I can then get a report of subscribers for that topic or a report showing every time the alert has been sent.
Customisation
Because there are many organisations that fall within the umbrella of the ministry, it was important for us that we could customise alerts and newsletters for individual organisations. The system now contains alerts for 4 different organisations and apart from the initial subscription and sign-up emails (which are branded with our agnostic umbrella logo,) all alerts are individually branded.
The newsletter interface comes loaded with various pre-formatted design templates and the drag-and-drop interface makes it easy for non-developers to create great-looking HTML newsletters. And for those of us who do know HTML, you can do that too.
You can upload images and make them reusable for future newsletters, and even lock them down so that they are only available in specific newsletter templates.
Administration
We've now got a meaty offering of alert topics within the system and the administration interface allows you to create logins for additional users. You can lock down access to individual alert topics and there are several levels of user-type. This gives a good deal of flexibility in controlling access and devolved publishing responsibilities.
Results
I am very impressed with the service that the system offers to our user base, and with the service that I have received from staff at GovDelivery. The number of subscribers to our alerts is steadily on the rise and I hope to be able to help more of our organisations in launching their email alert and newsletter services.
Links