I've been at Helpful Technology a year this week, so thought it would be an opportune time to dredge myself out of the wilderness to blog about what I've been up to.
I've certainly been quiet on social media and here on my blog. And that's for many reasons. While I still get involved with intranet projects, I don't work day in day out on an intranet anymore and I always prided my blog on dishing up the tips and experiences from my working life on a real intranet, rather than regurgitated material from conference speakers. Not having daily interaction with an intranet means I don't have that much gossip from the trenches these days.
But I do still have contact with the intranet publishers at DCMS, whose praises, by the way, I can't sing enough! I was perusing their intranet this week, and the quality of the content, 6 months after launch, is still amazing. Lovely, lovely plain English. I've heard about an exemplar for a government intranet, but what about an exemplar for government plain English? There are definitely lessons for others to learn here. The (very small) team at DCMS regularly monitor analytics and search queries in order to make improvements and I get requests for changes and tweaks, as part of their monthly support package. It's encouraging that this intranet is being maintained and improved.
Following the development of the DCMS intranet, I've had various emails and discussions about the GovIntranet WordPress theme with other government departments, councils and public sector organisations.  It's great to know that others are using our open source code and jiggling it around in WordPress. By the stats of visitors looking at the showcase site, we've had interest from over 40 countries since we released the code. My evil plan for world government intranet domination is progressing nicely. Mwahaha.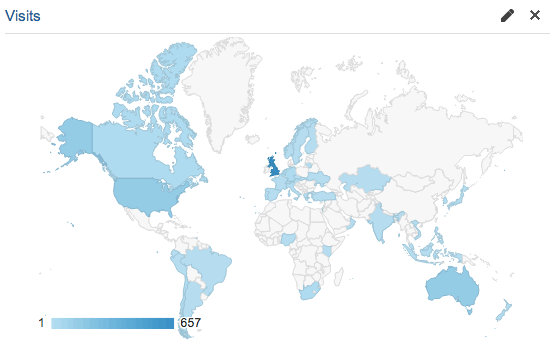 More exciting news is that over the coming months I'll be working on what will be my third and fourth intranet projects while working at Helpful Technology. Both will be with UK government departments, using the GovIntranet WordPress theme, with a fair bit of added functionality for one of the departments. For Steph and me, this has been fantastic news and has strengthened our belief that open sourcing our code to the government community is the right thing to do. And of course, we'll share any enhancements to the core theme over on the Helpful github repo.
But it's not just intranet projects that I've been involved in over the past year. Having developed a conference website for Wilton Park, we are now working on another global conference website, this time with an area for participants to interact and rate conference sessions. And I've been involved with various university, education, climate change and hospital -flavoured websites. A change from prisons, tribunals and courts, which were my working life before.
The Helpful Technology team has grown and relocated since I joined last September. There are now four of us, hence the need for an office move from our bijoux office in Trafalgar Square. We're now in new offices in Clerkenwell, sharing groovy office space with our PR friends, Claremont.
I hope to write more about developments to the GovIntranet WordPress theme as we work with others to create new intranets over the coming months. I'm due to speak with a couple of other departments too over the next week, so it promises to be an interesting time ahead.