Sometimes users don't act as you'd expect. My recent analysis of search terms that staff use to find the online learning area of the intranet showed some unexpected results.
A while back, our Human Resources department introduced an online learning area to the intranet. They wanted to label it as "JusticeAcademy." I argued that we shouldn't use "marketing" language and to try something like "learning and development" or "online training" which would more accurately describe the content within.
After a fair bit of debate, and because all the communications and marketing material was already in process, we went with the "JusticeAcademy" label, although I managed to slip in some keywords to help staff searching for terms like learning and development, e-learning, CBT and online training.
I checked out our intranet analytics reports for the past year, splitting staff searches into 2 groups; "JusticeAcademy" and "learning and development and everything else". There were 26,139 individual searches for this area of the intranet. And to my surprise, 91% of these searches were for "JusticeAcademy."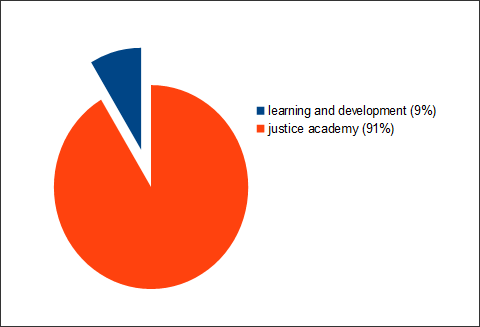 Usability best practice tells us not to use flowery marketing names and instead to use plain language. So why are staff searching for a branded name instead of using regular plain language terminology as expected? The answer is that the HR department have marketed the online learning area of the intranet very effectively. All literature and communications have managed to get the new name across and staff know where to go for their training needs.
Ironically, we are soon launching the newly rewritten HR area of the intranet because content ownership has moved to a different part of the organisation. This area will still incorporate the online learning section and the content owners want to call it "Learning and development". So now I have to go back to them to say "You know, a few years back I wanted to call it learning and development, but, actually…"